Maggie Barry
Since training with Catherine Marshall using Phillippe Karl's systematic training in his school of Légèreté my whole outlook on training and riding my horse has undergone a profound change. I now love and enjoy my sessions that are without any kind of stress or confusion for myself and the horse. The ease and lightness that can be achieved is truly what riding should be about-no contradictory aids or harmful gadgets. The system is logical and based on biomechanically correct principles of equine movement-truly beautiful. I love it and so does my horse.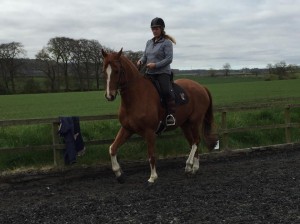 ---
Fiona Shapcott
Some days you just get lucky and approximately 2 years ago I had one of those days, I met Catherine and had my first introduction to Légèreté and have never looked back. Well that is not strictly true! But if I am honest most of the issues were mine not my horse's. I am not one who learns from reading a book, technical dressage terms go in one ear and out the other and to be honest most of the time I have not really felt like I know what I am doing or what I am aiming for. I am not saying that things immediately changed when I met Catherine but together we have reached a stage of our journey where I enjoy schooling my horse, I know what I am feeling for and I understand how to get there. When we hit a stumbling block we work through it together.
Seamus is a big 16.3 Clydesdale thoroughbred cross. His whole aim in life is to get to the food first and to please you. He definitely leans towards his dad when it comes to his build, the thoroughbred comes through on occasions but he can be decidedly lazy and at times very hard work. He is an honest boy though and he really tries for me. I would not be without him.
As his build dictates his weight is all in the front and when I started with Catherine he was really on the forehand. I could make him round and he looked really handsome but because of the pressure I was putting on his mouth to hold him there all our paces were restricted and he was most definitely not forward. As soon as I released my reins his head would literally just drop to a height he was comfortable with. To be honest we did not go into the school much so luckily he was not subjected to my attempts to school on a regular basis.
Since Catherine, Seamus and I have been working together I can honestly say that the relationship Seamus and I have has just got better and better. It was initially hard and for me it was a new way of approaching my riding. Even though I did not school much I had plenty of bad habits. At times both Catherine and I struggled with the different issues Seamus threw at us but I will say one thing about Catherine, she does not give up until she has found an approach that works for both me and Seamus. She does not fix things with a plaster but gets right in and if it means going back to basics that's what you do.
I really enjoy schooling now and we go into the school with a sense of purpose and understanding. Seamus is a totally different horse, he is forward and has an amazing trot. He carries himself most of the time and his whole shape has changed. After not seeing him for over a year both Seamus's physio and saddle fitter commented on how fantastic he looked. It has had a positive knock on effect with his jumping, he bends beautifully and is so much more balanced.
To finish, finding a way of schooling and a good instructor that works for you and your horse is hard, especially when you come back to riding as an adult and so much has changed. I am not saying that Legerete is the only way to work with your horse but for me and my horse it unquestionably works. If you do decide that it is for you, stay with it because the rewards are huge.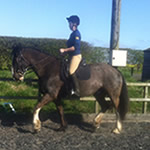 ---
Susie Young
My Lessons with Catherine are inspirational. She has a great understanding of why this training works and why its core philosophies are so important. She happily imparts this knowledge with a lovely teaching manner and has remarkable patience to encourage and help you to make what might seem like quite dramatic changes. She shows you that with the achievement of those changes the rewards are so worth reaping. Her enthusiasm and passion are infectious. I have seen the effect this training can have, sometimes so quickly, in horses of all ages,breeds and levels. It is quite amazing. I so look forward to continuing my journey with her and hope that many others may join us along the way.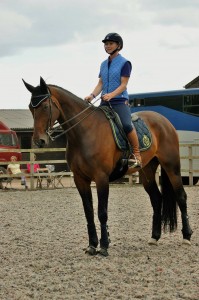 ---
Sarah Orr
I have been training with Catherine over the last three years. Catherine has a lovely way of teaching and all of our horses respond positively to her. Since training with Catherine's help and the Philippe Karl's School of Legerete method of training, my horse is always calm and relaxed and thoroughly enjoys his schooling sessions, as do I. He is a big horse but now seems even taller, as his posture has changed through the training and he stands tall and proud. My horse Limerick has always been a very sensitive boy and early on in his training, with me sadly, he started the unfortunate habit of lolling and swirling his tongue, he also avoided contact by over bending. I tried every bit I could find, and had instructors advise me to strap his mouth shut! but it was Catherine who pointed out the real cause, which was the downward pressure on his bit as I asked for roundness. My hands were curling downwards and unsteady and it took ages to cure this habit that I had formed over many years, but with Catherine's help we have done it! The habit does occasionally sneak back, but now I can respond to the reaction of my horse and resolve the situation immediately. We have had to work on the basics for it seems like an age to get my boy to take a good steady contact and stretch through when asked with the 'Action' 'Reaction' technique, but we are now starting to achieve lightness and self balance with a lovely mobile contact, and it is a joy. We have even started to achieve 8's and even a 9 in our dressage tests, the 9 was for 'Showing stretch in trot on a circle' which of course is the basis of our training so it is fantastic that we were able to achieve our first 9 in that movement!. I just wish I had been able to start my lovely horse with these methods, as what might we have achieved!
We still have much to work on and I am looking forward to further training with Catherine at her fabulous new venue out at Dunbar.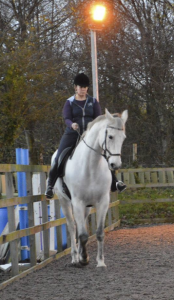 ---
Jenny Allison
As an Equine Massage Therapist and Spinal Manipulator, I have spent the last fourteen years treating horses, who in my opinion, were lame, tight, tense or labeled "dangerous" because of the way they were trained or ridden.
Modern training techniques that encourage "quick fix gadgets", tight nose bands, low fixed hands and over bent outlines affect horses physically and mentally. Sometimes causing irreversible damage.
You can see the results of these methods in "bridal lame horses", head shakers, teeth grinders, leg movers (horses unable to use their back muscles properly), excessively spooky horses and of course the Rollkur outline ("flexion of the horses neck achieved through aggressive force"). Why would anyone want to use "aggressive force" on a horse.
There is a better way; Ecole de "Legerete".
Catherine Marshall, of Whitesands Equestrian, is the first qualified trainer in the UK and has helped me enormously with my two horses. I have been riding for over fifty years and so she had to iron out some bad habits; but she has done so through her patient, clear and concise training. Every lesson was tailored specifically to each horse and how he/she presented on the day. With a sound knowledge of Equine Biomechanics, Catherine can tell you "WHY"; rather than repeat parrot-fashion something read in a book.
If, like me, you wish to prolong a healthy sound life for your horse I would definitely recommend Catherine.
Jenny Allison
SCOT VEC Therapeutic/Remedial Massage
ITEC Equine Sports Massage
OCEPT Animal Spinal Manipulator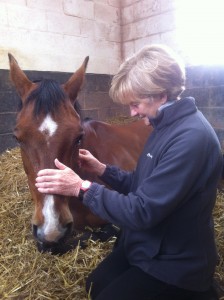 [/section]